Today I will be reviewing the Doritos brand DINAMITA Fiery Habanero because I am an idiot.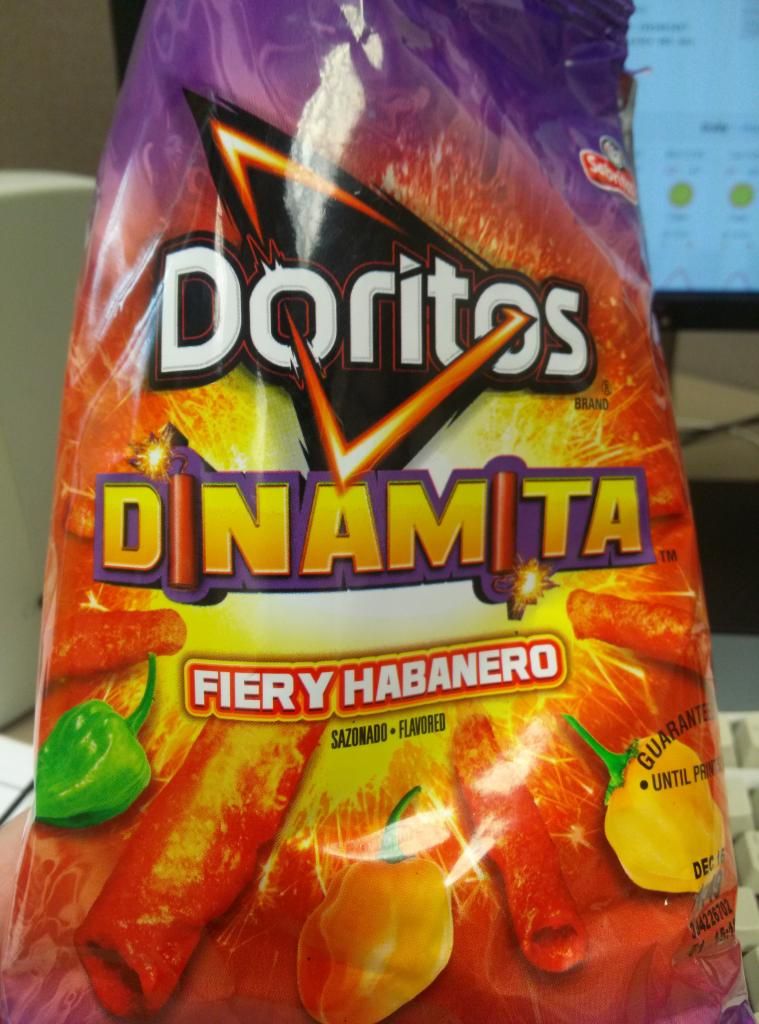 I find the purple accents quite appealing.
As some of you who have read previous posts will know, for some reason I am a sucker for the tightly rolled corn-chip snack phenomena. I think this stems from my noticing them everywhere. It is now far easier to find one of these spice rolled chip snacks than traditional corn-chips. Even Frito's are hard to find in their pure form, being composed now mostly of twists and scoops. A quick mental count of the corn-chips available at this stuffer shack today showed 7 varieties of DINAMITA and TAKIS and only 3 Frito's. Since the last two reviews were less than spectacular I felt compelled to continue sampling until I figured out why this style of snack was growing in popularity.
So, let's open a bag. The aroma is subtle at first, I have to put my nose right up to the bag before I can smell the corn-chippy smell and a twang of spice before, I. . . *ACHOO!!!* Okay, that was unexpected.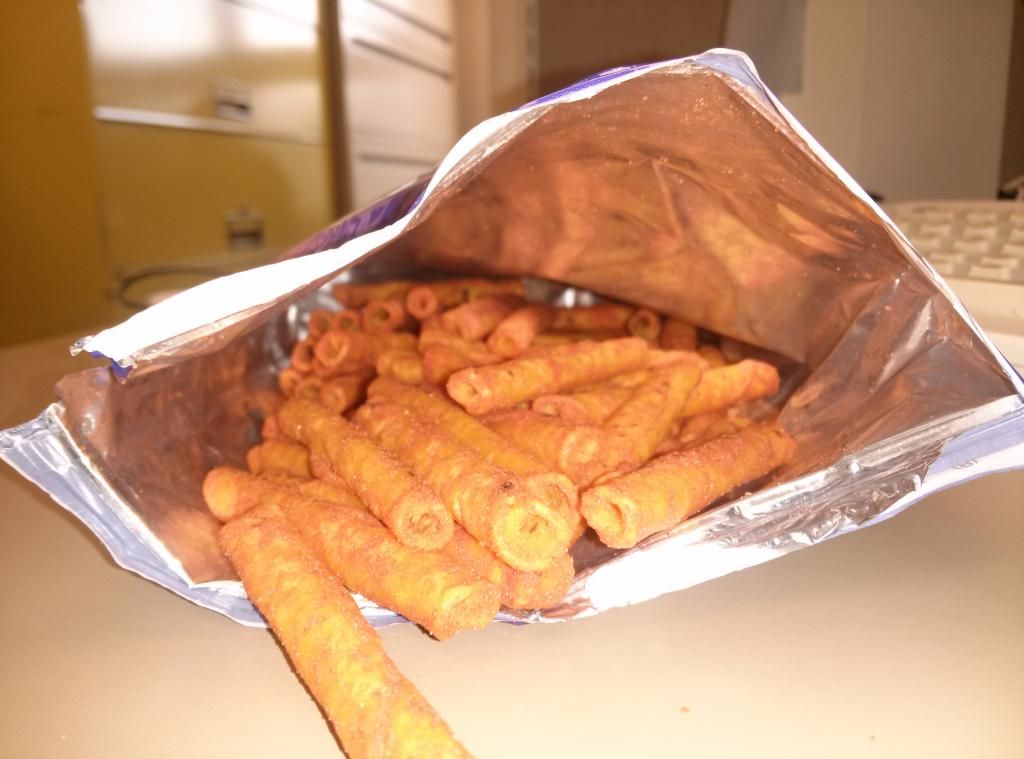 Like a orange-tinted log-jam spilling out of the mouth of hell.
The bag is 4oz, which seems pretty standard for a corn-chip snack (notably more than most potato chips at 2.25oz). The bag is also slightly smaller than some others, making it seem fuller. The very first thing that I notice is that these are not completely caked in Red Nuke-Powder as the last two varieties were (and the FunYuns). They're still pretty bright orange from that red dust over yellow corn-chip, but not the deep red that leads to permanent lip and finger staining.
It is by the Red Nuke Powder
that lips acquire stains
the stains become a warning
it is by will alone I set my mind in motion...
Okay, let's actually eat one.
The flavor is the standard corn-chip meal. Very crunchy, mostly dry, really sets the saliva rolling. The spice is nice, very hot sauce + Dorito. There is actually some heat here! It creeps up on you at first, and you can feel it working down the back of your throat. Very nice, these are actually the best rolled corn-chip snack I've had yet. They're ver- AHHHhhh!!! WTF?!? Wooooooo!!!! *COUGH* What The HELL, Give Me Something to Drink!!!
*Ahem* as I said, it creeps up on you. This is especially the case if you start munching through the bag. (Also, don't inhale while chewing...) When you eat a single *ACHOO* chili you only get the capsaicin in that chili and then the effect wears off. However when you eat a product like this which is dusted *slurps soda* with Habanero Red Nuke Powder, the effect is cumulatory. At some point you'll get 1/2 way through the bag and the mouth heat reaches a crescendo of pain, and you- GRAAAANNGGGHHHH!
AT LAST I AM FREE!!!
I͜͞ ̀҉C͏̷̧O͢Ḿ̸E ̷̡̕F̕ROM͢ A̶̵͞N͢ ̸͢A̶̵͘N̡̢͝C̸Ì̴E̷̸͟N̵T̀ ̵̢͜Ļ̸A̷̧N̢̛͘D̛͠͝ ̵̧T̵̵O҉ Ẁ̨͜R͡E͟͜C̀͢Ķ ̶HÁV̶̢̛ǪC̢͢ ́͞U҉P̷̡͠O͢N ͢͞T̢͘H̢E͟͡ ̧W͏O̷̧͘R͠L̵̕D̶͏.̡̛
̡́
̛͟͟SÈ͘E̸̵̡K ̴SH͝E̛͘͏L̸T́E͏͢͞R̴̵̡ M̢̀O͡R͝T̀A̡̡̨L̸̛ ̸͞FOR̀ ҉̸͜I̕ ̢̕A҉̸͟M̵̷͠ ҉H̵E̸ W͞H͏̨̡O͡ RĘ̵̀Ń̶DS͘ ̴̸̧S̷͝Ǫ̀UL̵S̵͜͡ ̢Į̕Ǹ̴̸T̷͞O̧ A͘͟͞ ̴̧N̢̕I҉͢C͞E̵̕͢ ̧̡̧C̷Á͏K̀E ̵̛͡B҉̧Ą҉͟T̸͜ŢE҉̴R ̛̛̕F̢̢́O̷̢R̴ ͟D҉̸ES̕S̶͝E̸̵͘R̸͡T̷
̀
͡T̷̡HE ͠F̸̴͢I̡͜RE̡S̷͞ ҉̛O̵̕͞F̴̀ ̵̛H͏̶E̷L͜L̶̨ ͜͢S̵H̡A̕LL̕͜ ̛́B̡͝A͠K͏̧E ̸҉T̛H̴̨̛E̴E ̸͞A͘T̷͞ ̕͜3͝͏50 ̨̛͝F̧̛ÓR͞ ́A͘҉B̵̀OUT̴̡͟ A̶͡Ņ ̨͟͜H̴O̵̢̨Ù̡͢R̴͜
̴͘
̴͟L̕͟É͘T҉̛ ̷COO̶͢͞L̶̢̛ AND͏̨̢ ͘F̧̛R͏̡OS҉̵͠T̛ ̀͟Ẁ̵I̢T͜͝H͘͞͝ ̶͟͢TH̕E͞ T͟E̶͡A̸Ŗ̵̛S͞ ̶̀O͡͡F͝ T͘H͜͢E͡ ́͢͢Í͢͢ŅN̶̷̨O̧C̴̢EN͡T͘
̀
̵͠S̸͠E̴R̶͡VE͝R̴ ͏́͏C̡̀Ơ͢L̢D̀,̶͞ ̷͘W̢̕Į̵T̕Ḩ ̡͢R͏͠E̛̛̕V̧E͞ŃG̛̕É̢͡!҉̷!̢͜!̡͏͜
RATING: Fahrenheit 4.51/5.00